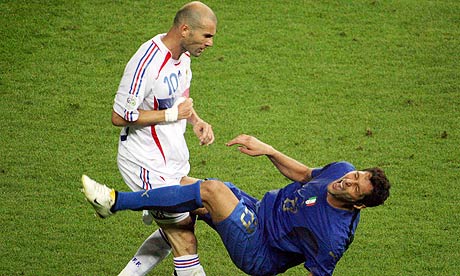 As promised, here's Ben Leeder's Perfect Player. You can follow him on Twitter here, and check out his excellent blog 'You've Got Acres Of Time' here.
Always three steps ahead of everybody. A true genius who made football seem so easy. A true legend but more importantly a true gentleman. Everything a footballer should be.
He could head the ball with so much power. He had amazing accuracy, he could put the ball across the keeper with so much ease and find the net.
Zizou had an aura, he seemed to glide around the pitch (my favourite player of all time). He could see things no one else could even dream of. He always had an end product; either a great finish or a perfect sliding pass. The perfect midfielder.
Everyone wanted to follow him, he could completely control a game on his own. Go on lung busting runs, slide tackles and scored some great goals. The complete midfielder who would take the game by the scruff of the neck and always give 100 per cent every week. A great leader.
Wayne chases, chases and chases again and he loves every minute of it. He plays with his heart on his sleeve, which is an amazing attribute to have. He gives everything for his team every week and will fight until the final whistle blows.
The ball just seems to stick to his foot. He can do whatever he wants.. Once he gets going it is impossible to stop him. Seems pointless trying to sum him up, he is just so good! The best player of all time? Hell yes!
Right foot - Ronaldo (Brazilian)
Pace, power and precision - he had it all. In his day the best player in the world.. untouchable. He had tricks that would leave to defenders for dead. The greatest goalscorer in world cup history, what more can I say. The phenomenon is a fully deserved nickname.